Hey, Rorschach* was right
* Hermann Rorschach (1884-1922), Swiss psychiatrist,

introduced his famous inkblot test.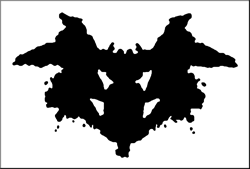 YES, EVERYTHING'S
AN INKBLOT,
what you see happens to be
whatever you project on it,
coming from you.....you see.
If you're feeling insecure
and filled with doubt and fear,
then where you look you'll only see
your fears, whatever's there.
And when you're feeling great with you,
loving and filled with praise,
then everything to you looks fine,
no matter where you gaze.
Yes, everything's an inkblot,
and the dramas that you see,
is your imagination
that you call reality.
Don't be fooled by appearances.
Appearances don't count.
Don't be fooled by obstacles
no matter how they mount.
Obstacles and barriers
are only what you make it.
You can choose to make it rough
or you could 'piece of cake' it.
Yup, everything's an inkblot
and what you really see
is only what you think you are
and feel yourself to be.
Don't be fooled by people
who make you mad as hell.
They are your irritations
about yourself. Can't you tell?
What you see in others is
what's inside of you.
The more you love yourself,
the more others love you too. (Hello!)
Everything's an inkblot with all sorts of things to see.
What you're sure you see for you I may not see for me.
It doesn't mean someone is wrong
with whatever they perceive.
It only means that what one sees
is just what they believe.
Life is just an inkblot with many shapes and forms.
What you see comes from yourself.
So who decides the norms?
No sense arguing who's loose or who's uptight,
'cause everything's an inkblot and everyone is right.
Everything's an inkblot. What you see is what you are.
The problems that you think about
you'll see quite near and far.
Everything's an inkblot. Isn't that a scream?
Everything is really not
what it appears to be or seem.
Everything's an inkblot. Get used to that idea.
Look for something more in life
and more is what you'll see-a.
Yes, everything's an inkblot, so don't make such a fuss.
That's the ride we're on folks. There is no other bus.
***