25th Anniversary eBook edition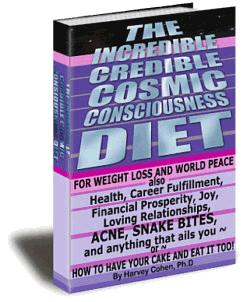 Harvey Cohen, behavioral scientist,
author, lecturer, conducts programs
for personal and corporate growth.
It's not about food.
It's about the ideas we feed our mind
that become reality.
"One of the greatest things in metaphysical literature." Dr. Robert Bitzer

" A gift to the world." Terry Cole-Whittaker

"A positive reinforcement for me." Leo Buscaglia

"Joins my top ten books I've ever read."

B.C. Director, Huna Research

"Great originality and validity." Norman Cousins

"Impact of a four day human potential workshop. A steal at any price

under $50O." M. McGuire, Dir. NAPRA

"One of the greatest manuals for therapy, mind expansion or enlightenment.

I give it to all my favorite people." I. Windon, Sun Lakes, Arizona

"Cuts out all the unnecessary verbiage to present universal truth in direct, clear, personal terms. Visual delight mind mover." Erwin Fendle, Omaha Nebraska

"I've had a copy of The Incredible Credible Cosmic Consciousness Diet since I was 16, that's seventeen years ago and I treasure it more today than when I first received it."

M. Pizio, San Diego, CA

The
Incredible
Credible
C o s m i c
Consciousness Diet
for
Weight Loss and World Peace
-ALSO-
Health, Career Fulfillment,
Financial Prosperity,
Joy, Loving Relationships,
ACNE, SNAKE BITES
and anything that ails you
-OR-
How to have your cake and eat it too!
By Harvey Cohen, Ph.D.

=
To you
Appetizers

Enjoy!
If you do not believe
you can have it all
then you get to choose
how much less than all
you will have.
- Chew on that for a while-

Personal discord depends upon your unawareness of the truth

of your nature for its very existence.
When you are open-minded enough to discover the truth of who and what you really are, beyond your learned limitations, you are free to live your life more joyfully and more abundantly as natural expressions of your true Self.

To discover the truth of your Self is your journey to freedom and so much more than you

bargained for.

-Health - Financial prosperity - Well-being -
- Peace of mind - Love - Ideal weight -Success -
-Abundance and Joy -
are natural states of being.
Learned habits of fear and limitation

block natural states of being, not circumstances.

That is what you are here to re-awaken to.
Just like everything necessary for an acorn to reveal unlimited forests is already within the nature of an acorn, everything necessary for the full and complete expression of your nature is already within you.
Your true nature is either

expressed or repressed.
Those that have connected with this ideal are responsible for great achievements, great discoveries, great inventions and great ideas that benefit all of creation.
The Incredible Credible Cosmic Consciousness Diet

is a diet of ideas that reveal that the purpose for struggle and despair is to remind you that you can choose something other than struggle and despair.
Habits of struggle and despair cannot

survive the light of conscious awareness.
The logic and simplicity of what is ahead

will strike a cord of familiarity and truth.

The tone of that cord does not come this book.

It comes from you.
In the most remarkable manner you are responsible for;
the money you don't have,
the nature and quality of all
your success, your joy,

your fulfillment,

your opportunities,

your everything!!!

No exceptions!
What about things happening by accident?

What about luck?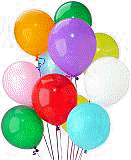 Surprise!
There is no such thing as LUCK!

Nothing in the universe

happens by luck.

Nothing!

Nothing!

Nothing!

Nothing!

Nothing in the universe

happens accidentally.

Nothing!

Nothing!

Nothing!

Nothing!

~ Cause and Effect ~

rule the universe.

For every action there is an equal

and opposite reaction.

The most incomprehensible fact about

the universe is that it is comprehensible.

Nothing happens by luck or by accident.

God doesn't shoot dice with the universe.

For every effect there is a cause.

-----Albert Einstein
Go ague with Big Al ~
You

are

the cause

for everything

that

you

experience

in

your

life.
Everything!

Get it?

Everything!
The whole ball of wax.

The whole kit and kaboodle.

The whole shmeer.

The works.
NOT FOOD,

NOT CIRCUMSTANCES,

NOT OTHER PEOPLE,

NOT DRUGS,

NOT THE PRESIDENT,

NOT YOUR BOSS,

NOT THE ECONOMY,

NOT YOUR MOTHER,

NOT THE WEATHER,

NOT THE WATER,

NOT NOTHIN',

NO HOW,

NO WAY!

Sooner or later,

if not this lifetime,

then some other,

you will come to the

realization that;
It's
All
in
your
mind

.
Period

You are the cause to all you experience

in your life because it's your perception that

causes you to experience life's situations the way

you do. Your perception. Not the situation itself.

Your perceptions come from your

conditioned, programmed state of mind.

You perceive things and people

not as they are, but as you perceive

them to be, as you learned

to perceive them to be.

To perceive your Self to be in a hopeless or hopeful situation has nothing to do with the situation. It's your perception that decides if a situation is; hopeless or hopeful, difficult or easy, exciting or boring, restricting

or freeing,

TTo perceive your Self less than the awesome being you are blocks creative ideas and opportunities from your awareness .
.
Your mind is compelled

to perceive conditions

in your life based

upon the ideas

that are fed

into your

mind.
The ideas you feed your mind become

the means by which you are drawn

to perceive life. The way you

perceive life becomes

your reality.

Really!

When

your mind

accepts an idea

as being true, it then

becomes true.........for you.

Your mind makes sure of that.
Your perceptions reveal your beliefs. And your beliefs

have certain feelings------

AND

whatever you are feeling is an
ENERGY


that ................................
..............releases an

intelligence and

creativity within

you that knows

exactly what to

know to create

the reality of

your beliefs.......
AND DOES IT...............

automatically
and
unconsciously.
Your

MIND

COMPELS

YOU

to have experiences that reflect

your beliefs and feelings.

SO....................
......if you BELIEVE you have
a WEIGHT PROBLEM
or a HEALTH PROBLEM
or a MONEY PROBLEM
or a RELATIONSHIP PROBLEM
or a PROBLEM OF
ANY
kind,
then................................
---ZAP---

Your belief becomes your reality as

a problem about something or other.
Your MIND, then, blocks from your awareness greater life-enriching options easily perceived by those believing they are

~greater in their creative nature

than any idea of fear or limitation.

No one is born believing what they wind up believing.

Beliefs are learned from others, or self-taught.

Those that believe that they are ~ greater in their creative nature than any idea of fear or limitation, believe that because SELF empowering ideas were picked up by them from others, or their open-minded curiosity led them to the obvious believable

conclusion that they are ~

greater in their creative nature than any idea of fear or limitation.
Your mind's unlimited creative nature doesn't care what you believe, but will always take you to

the perception/reality of your beliefs.

That's the only thing it knows to do.

THE ONLY THING

THE ONLY THING

THE ONLY THING

THE ONLY THING

Get it? THE ONLY THING.

That's it. Nothin' else.

Hence.........................................
............a belief in having a problem
is an ENERGY

that only knows how to

perceive limiting options.

That's the only thing a

belief in having a problem

knows to do.

"If it isn't one thing......

it's another."
Now.................................................

.................when you change

your belief from a learned

belief in being problem-

minded to easily and

reasonably

believing,

that;

then...
---ZAP---

Your MIND is

compelled to

create the

reality

of your belief by revealing

greater life-enriching ideas and

opportunities, regardless of

ANYTHING!

That's why.....

Some people are their ideal weight without struggle no matter what they eat -

Some people remain less than their ideal weight no matter how many diets they go on -

Some people become well no matter how many doctors told them there was no hope -

Some people find love no matter how `unusual` they may appear -

Some people are so able no matter how `disabled` they may appear -

Some people are so `unable` no matter how `able` they may appear -

Some people get rich no matter how `bad` things are -

Some people struggle no matter how `good` things are -

Some people are so fulfilled no matter how little they have -

Some people always complain no matter how much they have -

Some people ____________ no matter _____________-

(fill in the blanks)
YOU

WERE NOT BORN WITH BELIEFS

THAT LIMIT YOU IN ANY WAY.

BELIEFS THAT LIMIT YOU

IN ANY WAY

ARE OTHER PEOPLE'S LIMITING BELIEFS

THAT YOU PICKED UP DURING

YOUR LIFE'S JOURNEY.

(parents, teachers, relatives, friends, media, whomever, whatever)

The Incredible Credible Cosmic Consciousness Diet is a diet of ideas.

Ideas are more powerful than;

food,

doctor opinions,

speeding locomotives,

leaps over tall buildings,

armies, the economy,

dis-ease or conditions of any kind.

When an idea is accepted into

your mind the idea becomes a belief,

and the belief is an

ENERGY

that only knows how to create the

reality of that belief.

That's the only thing it knows to do.

That's right. THE BELIEF BECOMES...........
...........
REALITY!

Really -
So, the diet, then, is to feed greater

SELF empowering believable ideas and

thoughts into your thought process.

A diet of new and greater SELF-empowering

believable ideas and thoughts form new beliefs.

And the ENERGY

of new beliefs does the work........automatically.

Beliefs direct behavior.

Not too shabby.......huh?
A new idea becomes a belief when your new idea is considered reasonable and believable, and when your imagination `makes believe` the idea already IS.

The ENERGY

of `making believe` a SELF-empowering

idea is already your reality is the same

ENERGY

as 'believing'.

And thus, you automatically create what you are `making believe` ............................

.................. you 'believe'.

You automatically perceive/create the reality of the ideas you

`make believe` you 'believe'.

THAT'S THE WAY IT WORKS.

What you are now experiencing life to be for you is the result/effect of what you are reasonably expecting, reasonably considering and imagining at some level of

your consciousness.

That goes for success as well as struggle.

If you're not considering or imagining or`making believe` you're unlimited in your creative nature, then you are considering, imagining or`making believe` you're limited in your

creative nature.

AND YOUR MIND

DOES THE REST.

You must 'make believe/imagine', consider a newer greater idea is true before it

can become true for you.

Logic and reason will take you there.
You unconsciously reinforce a limited idea from the past by assuming, imagining and expecting a limited result before the

end result occurs.

You judge situations as being limiting and restricting not because they are limiting and restricting, but because your consciousness has been fed ideas

of limitation causing you to

perceive life in a

limiting way.

Not only that,

but get this...........
...........

The more limited and unfulfilling is your life, the more you sabotage

World Peace.

How's that for a guilt trip?

You have an obligation to be and do

all you desire to be and do,

BECAUSE

WORLD PEACE

DEPENDS UPON

YOU BEING

HAPPY,

HEALTHY,

PROSPEROUS AND FULFILLED.
WORLD PEACE DEPENDS UPON
YOUR PEACE OF MIND.
Because.........

ne
..............until everyone

in the world is realizing

peace of mind, there cannot be

WORLD PEACE.

No how, now way.

And since...................

.........................World Peace seems to have escaped us since the beginning of WHENEVER, we'd better look at some new ideas for creating World Peace, because.................
.........the old ideas
SUCK!

Perhaps it could be perceived that with all the nukes popping up all over the place our best hope for World Peace is at hand.

Nukes force us to find new ways to create Peace in this world.

Otherwise,

guess what?
That's right, you guessed it!

BOOM!
It's either PEACE for all
or
BOOM
for all.
Get it?
Good!

Oh , sure, in the name of

WORLD PEACE

we could march, protest, write letters, help get out the vote, campaign, give money to peace causes, pray, give speeches and whatever. But if our lives are lives of contradictions---if our lives are not harmonious, abundant, fulfilled and happy, if our lives are filled with anger, bigotry, fear, contaminated with resentment and insecurity, then our contribution

to the world is an

ENERGY

that blocks World Peace. BECAUSE.....................

what we are in our own world is the

ENERGY

we give to the world.
So............


...........you gotta wanna be fulfilled in every area of your life before there can be

World Peace.